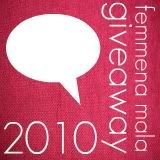 Bloggin' Ladies this week is all about Sandy from Sandy a la Mode. She is so sweet, and the most helpful person to talk to! Please enjoy her blog + interview. BUT don't forget about the giveaway! I am closing entries on Friday at midnight, so get them in while you can!! Click here to find out more.
on with the interview...!
Name+Age+Site/Blog


Hi! My name is Sandy, I'm 27 and I blog over at

Sandy a la Mode

Tell us something interesting about you!


I'm a Consultant and my job take's me
all over the world! The most interesting place I've been with my job is Egypt!
Why did you begin blogging?


I began blogging as a way to document my journey in sewing, photography, baking, home renovations, and crafting!
How long have you been blogging?


My first blog post was written on January 12, 2010, so almost a year! My very first

post

on Easy Peasy Peanut Butter Cookies was inspired by the amazing

Bakerella

!
Who is your inspiration for writing/doing what you do?


Myself. It's nice to have a fun little hobby on the side as a way to decompress from a stressful day at work! But I also enjoy sharing what I've been up to with family and friends too!
Where do you get your ideas?
As cliche as it sounds, I'm inspired by pretty much anything and everything! I love taking pictures of time spent with family or weddings I attend and then blogging about it! I love to bake for potlucks and work parties and I'll take pictures of the process so I can blog about it! If I make something that I'd like to share with others, I make sure to take pictures of the process and blog about it! If I see a cute bunny outside my house, I take a picture and a blog about it! OK, I hope you get the idea. ;)
What is something interesting about you?


I have one near sighted eye and one far sighted eye so I don't need to wear glasses!
Do you have any advice that you want to share with fellow lady bloggers?


Always be true to yourself in your blog posts. Spend time on writing quality blog posts and do it because you love it and not because you want followers, comments, better statistics. If you take something from another website/blog, make sure to give them credit for it.
What is one thing you are looking forward to most in your future (blog or otherwise)?


I am looking forward to meeting some of my new blog friends in person at the

Creative Estates

conference in April!